BEST SEATS IN THE HOUSE
May 02, 2016 | Safety Training
With the 17th pick in the 2016 NFL draft the Atlanta Falcons selected Keanu Neal, a Strong Safety out of Florida. A selection with even bigger ramifications, and one that will mold the environment for the Falcons to thrive in for years to come was the number one overall pick in 2015.The joint venture of Holder, Hunt, Russell and Moody (HHRM) selected Canam-Heavy and Derr and Isbell Construction out of Euless Texas to erect the massive steel retractable roof of the new Mercedes Benz stadium.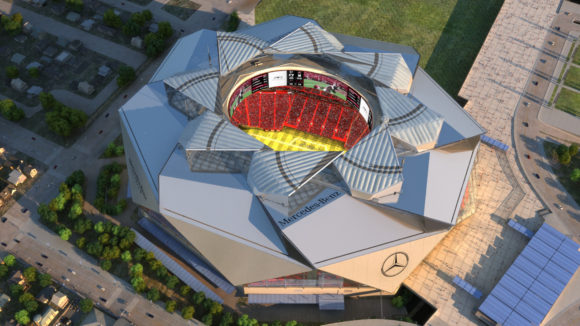 Recently MSC Safety Solutions joined the team to assist with their safety and risk management program at the stadium, currently under construction. Once completed, the stadium will be an iconic landmark for the City of Atlanta and the State of Georgia.  It will provide Falcons fans, Atlanta United fans, and other event guests with an unparalleled experience, while contributing to the economic growth and success of the city and state.  The stadium is very forward-thinking, and will feature the highest levels of environmental sustainability inside and outside the building.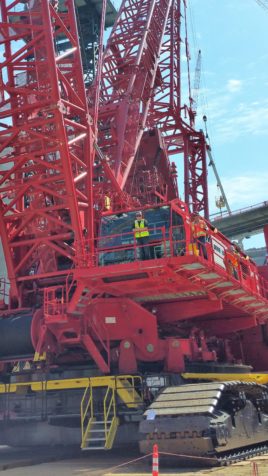 Here in Denver we may not be Atlanta Falcon football fans, but we are fans of this stadium. This job site is a wonder in itself, the cranes, the design, the people, and the innovative safety procedures are remarkable.
Did I say cranes? Buckner Companies has filled the jobsite with some huge heavy lift cranes that include a Liebherr LR11000/P1300. This crane is capable of a load capacity of 1,432 tons. But that's not all, Buckner has placed a combination of 15 lattice boom and telescopic crawler cranes on site. The crawler cranes have a lifting capacity from 110 tons to 1,432 tons and approximately 8500 tons in total lifting capacity.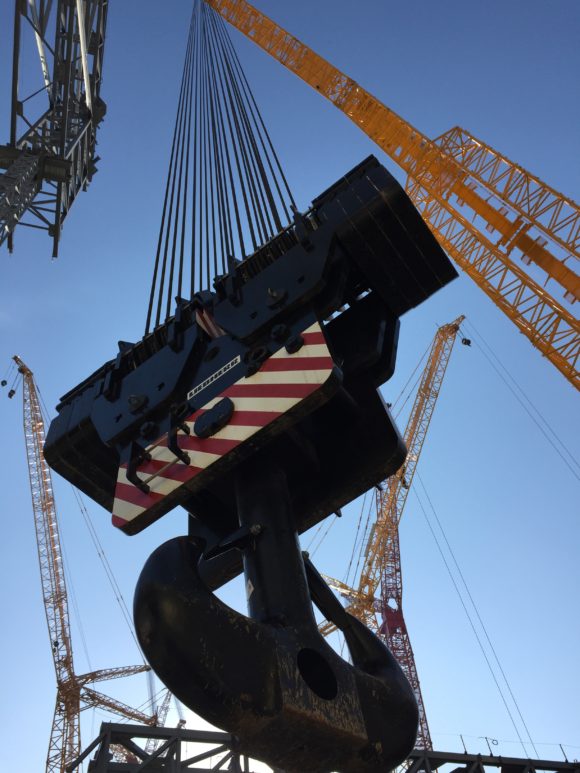 Maxim Crane Works provided the Manitowoc 31000. It took 127 loads to bring this 2,535-ton crane to the job site, 24 of those loads were custom designed steel crane mats, and it took about 30 days to build. The matting alone cost almost $1 million. The 31000 is rigged with 262 feet of main boom, 118 feet of luffing jib, series five counterweights, a 16-part 1,000-ton load block and two-part 200-ton auxiliary block. Now that's a site to see.
All these cranes are set up in the bowl the stadium in front of the "Window to the City". The "Window to the City "will be a floor to ceiling framed window opening located at the stadium's northeast corner that will provide a view of the downtown skyline.  If you have seats on the southwest side of the stadium, you have the best seats in the house!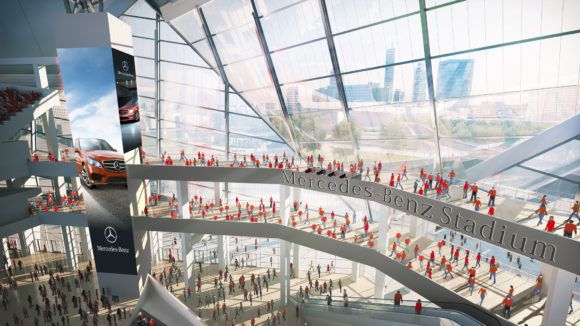 This was just our first visit but we have more visits planned. We are honored to be a part of this extraordinary project supporting Derr and Isbell Construction.  Watch our blog for more stories and pictures to come soon.