Safe Work Practices When Dealing with Steel Erection
September 07, 2023 | ANSI | Blog | Colorado | Compliance | Hazards | OSHA | Preparation | Safety | Safety Training | Training | Workplace Hazards
Steel Erection is often used when building bridges, office buildings, commercial, and industrial structures. With many avenues, this makes steel erection one of the top 10 most hazardous occupations according to BLS fatality data. Before beginning steel erection work, here are some safe practices that will increase employee safety:
Site Preparation
Surprise! Communication is not only key in a relationship but also between the controlling contractor and the steel erector prior to the beginning of operation. This key factor holds paramount to the decrease in employee injuries. Pre-erection communication is a critical role that is sometimes forgotten, which can lead to injuries and death. Site preparation includes:
Approval and Commencement
Site Layout
Pre-Planning
Site-Specific Erection Plan
Having these as part of your site preparation, will set the standard for how work is performed. These are essential in beginning steel erection work.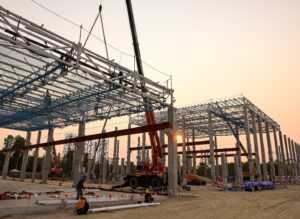 Accident Prevention Program and Training
Before we jump into steel erection let's make sure we're wearing fall protection. Your employer should have an accident prevention program that would ensure the development of untrained employees. This training program decreases the likelihood of injury and promotes the health and safety of the employees. Training is our biggest asset when it comes to risk and must be provided by a qualified person who's knowledgeable about the specific topic. Employees exposed to fall hazards must be trained and instructed in the following areas:
The recognition and identification of fall hazards in the work area
The use and operation of protective systems, such as guardrail systems, personal fall-arrest systems, positioning-device systems, fall- restraint systems, safety-net systems, and other protection to be used.
The correct procedures for erecting, maintaining, disassembling, and inspecting the fall protection systems to be used.
Procedures for protection from falls to lower levels and into holes and openings in walking/working surfaces and walls.
Workers are exposed to hazards everyday in the construction industry. Training, communication and evaluation are critical steps in employee health and safety.
Conclusion
These safe work practices will not only decrease the likelihood of injuries. But also enhance the safety culture of the company. These methods are also requirements from OSHA to simply reduce hazards pertaining to steel erection.
Here at MSC, we provide training to help meet every company's safety goal and mandatory obligations. Please contact us to learn more about our specialized training courses, as well as safety consulting.  Our team of safety professionals are dedicated to delivering the best results for the overall health and safety of your company.
Jermaine Huddleston-MSC Safety Solutions