5 Tips for Managing Construction Risk
August 10, 2020 | Blog
In construction risk management, the golden rule is to hope for the best, but always be prepared for the worst. There are lots of risks associated with construction work, and if you are not ready for them, the results could be quite disastrous.
This is why construction risk management is vital to any operation. Risk management involves identifying all potential hazards associated with your construction project and formulating a plan of action should this issue come to fruition.
Now, this process can seem overwhelming for someone who has never gotten involved with safety risk management. After all, how can you ever truly be prepared for all types of potential risks and disasters? Ask yourself these questions:
What about other disasters that could strike your construction project?
What would you do if there was an earthquake that damages your construction site?
What would happen if you were to fail an OSHA on-site inspection and be shut down?
What if your investors suddenly pulled out and you lost funding?
It should come as no surprise that construction sites are full of risk factors – many of which are more than skin deep. If these risks are not properly evaluated and addressed; you may be living on borrowed time.
While there are certain situations that you can never be totally prepared for, there are several tasks you can do to put you – and your operation – in a safer position. We've prepared 5 tips to help make your construction risk management easier.
1. Know the Different Types of Risks
What are the top safety risks in construction? The first hazard that probably comes to mind is physical safety.
Workplace safety is quite certainly an important component of risk management. According to US Bureau of Labor Statistics (BLS), 47% of fatal work injuries occur in construction – and many of these deaths or other injuries can be avoided with proper construction risk management. But there are other risks associated with construction, too.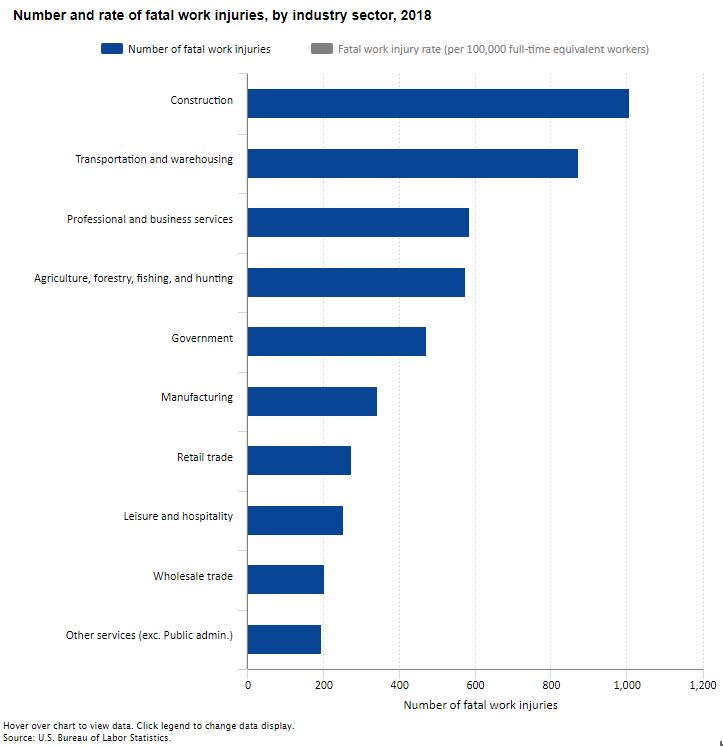 Safety Risks
In order to reduce the number of injuries and the risk of death on construction sites, managers must evaluate all health and safety risks. This includes identifying areas and situations that could arise (such as the risk of falling from high scaffolding) as well as health-related issues (such as breathing in dangerous chemicals).
This is why it is important to offer comprehensive construction safety training courses that follow OSHA regulations – as well as conduct frequent safety inspections.
Financial Risk
Financial risk involves unsustainable plans for the project. For instance, investing in creating a luxury apartment complex in an area where there is a job crisis and little population growth would be considered a financial risk.
According to a study from The Surety and Fidelity Association, unrealistic growth predictions were the main cause of construction project failure.
Contractual Risk
There is a lot of risks associated with hiring contractors or subcontractors for construction projects. These are the parties responsible for the day-to-day action plan for the project. Unfortunately, many investors and project managers have been burned by hiring bad contractors.
On the other hand, contractors can face legal risks depending on their agreement with the client. Therefore, it is important to produce clear documentation regarding all construction contracts outlining the terms and conditions of the agreement.
Project Risk
These are any risks directly related to the project that could cause problems, such as delays, increases in material costs, or unexpected changes to the project.
Of course, these can be difficult to predict, but it is important that there is some room in the budget and timeline of the project to account for these types of project risks.
Stakeholder Risk
If the project is funded by investors, there is a financial risk for the stakeholders of the project.
There must be clear language within the contract outlining how each stakeholder will receive returns on their investment. Additionally, there needs to be documentation of what will happen if any issues occur and the project is not completed.
Environmental Risk
Natural phenomena like earthquakes, tornados, or hurricanes can cause damage to construction sites or slow down progress.
It is important that insurance policies are put into place to protect any financial investments in this situation, as well as solutions for how these situations should be handled with staffing and project management.
These are the six major risk categories in construction. If you educate yourself (and everyone else involved in the project) on these risks, you're putting the entire operation in a much, much safer situation.
2. Cover Your Basic Bases First
Another way to make construction risk management a bit less overwhelming is by tackling the biggest, more apparent risks first. Construction safety risks need to be of the utmost concern since on-site injuries are incredibly common. The BLS reports the most common injuries that occur on the job include:
Overexertion
Falls, slips, or trips
Accidents with objects or equipment
Sprains, strains, or muscle tears
Cuts
Fractures
It is vital to find solutions to prevent the greatest risks on construction sites. This would include gathering the proper construction safety gear (hard hats, harnesses, safety goggles) as well as offer workplace safety training for all employees to learn the basic procedures.
3. Look into Safety Training Programs
Safety training is the foundation of construction risk management. Depending on the nature of your operation, it might be difficult to know exactly what courses you need and what certifications your employees should have. This is why it's always best to turn to the experts to guide you in the right direction.
Partnering with a construction safety training agency, like MSC Safety Solutions, makes it overly easy to train all new and existing employees and ensure they have everything they need. Workers can also receive additional training and certification, such as the OSHA 10 certification or OSHA general industry training.
4. Avoid Situations that Increase Accidents and Issues
The next step in construction risk management is to prevent any potential hazards from occurring in the first place. This is why conducting frequent inspections is incredibly important.
Inspections ensure that all construction sites are kept up to code – even as they progress and change. Leaders must set standards for quality control and immediately identify areas that could become hazardous. For example, take a close examination of the common safety risks. As previously mentioned, the BLS reported that the leading cause of on-site work injuries was related to overexertion.
On a construction site, this could lead to muscle injury from repetitive motion or other types of accidents due to exhaustion. That said, be careful not to over-schedule employees – as this overexertion can result in burnout, mental fog, or a lack of focus.
5. Have a Standard Order of Operations
Finally, the best way to be prepared for the unexpected is to have a plan of what to do in each risk situation.
You should have a step-by-step guide for instances of emergencies that can be used to outline what should be done in a specific circumstance. All of these procedures should be taught in construction safety training programs and posted throughout the site for reference. If you work with a construction safety agency, they will take care of this for you.
It is also important to make sure all employees are up-to-date on general industry safety training. Some courses require refreshers or re-certification.
MSC Safety Solutions has developed the C.L.A.R.K. System – a program that makes the difficult task of tracking whether each person on your team is up-to-date on their current required training much easier.

By simply scanning the QR code on the employee's badge, you get instant access to their training records. From here, you can see exactly what they need to be compliant.
Conclusion
Risk management is a key component of construction safety. Not only does it keep your staff protected from injury, it protects your operation from a number of project risks – financial, contractual, stakeholder, etc.
Our goal at MSC Safety Solutions is to make this process much less overwhelming by instructing leaders on all aspects of construction safety training. We also offer consulting services to help you identify and implement risk management strategies.
If you have any questions regarding the safety training courses that we offer, please reach out to our team by calling (303) 477-1044 or emailing [email protected].